I have a twitter account for the blog. I don't have much interest in social media as it is mostly stupid people aping one another in a ritualized fashion. My first look at MySpace years ago told me it was a fun thing for women and kids. Facebook confirmed it. Twitter, built on a technology popular with ten year old girls, always looked like fly paper for the stupid. Morons grunting at one another. Then all the hipsters decided it was the cool thing and you can't do anything without being beat over the head with Twitter.
Anyway, I had this exchange with someone who turned up in my twitter feed: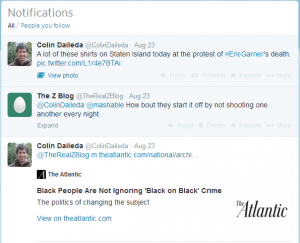 Colin Daileda is probably a nice young man, but I bet my goldfish knows more about the world. Hiring young people as writers is a cheap way to fill column inches, but no one cares what young people have to say about pretty much anything. The reason is they don't know anything. In modern times, they are stunningly obtuse due to living such sheltered lives. Unless you were in the service or prison, the typical 20-something is clueless about the realities of the world.
But, the public debate these days is designed to cater to Colin. My sarcastic quip is answered with a link to a second generation race hustler. Poor Colin's self-beclownment is made all the better by the fact he is blind to it. In the moronverse, it does not matter. The young skulls full of mush just fling crap at one another thinking it makes them seem clever. It is too soon to know, but my sense is it just intensifies the dullness of the participants.
A few years back I had an intern about the same age as Colin. Nice kid who wanted to be a lawyer. I gave him a research task that I thought would be perfect for an internet savvy young person. Google would do the heavy lifting. He just had to catalog the results for me. Yet, he struggled mightily. Working with him, it struck me that all the "critical thinking" and "approaches to learning" had produced a young man who knew nothing of any value.
Yet, he was constantly clicking away on his phone. He was either texting, on Facebook or twitter. I'd sit here imagining what sort of inanities he and the other dimwits were sharing so fast and furious with one another. The worst part of it was he thought he was a smart guy. His teachers all said he was a smart guy. His friends probably thought they were smart too. Yet, I found it nearly impossible to teach him anything. It was that obtuseness that got in the way.
This blend of moral preening and staggering ignorance is best explained by way of example. We wanted to do a small mailing. We do these in-house. We print the letter. Someone signs them and then we run them through a folding machine that then prepares them for stuffing into an envelope. This is a devise a child can master. I gave the intern a basic lesson on how it all worked and he appeared to get it. I left him alone and went about my business.
A half hour later, he is in my office telling me the folder is broken. We go to take a look and I see that he got paper jammed into it some how. I begin to show him how to unjam the thing and I note that he is looking at me like I'm doing magic tricks. He had messed the thing up so bad I had to take off the cover. I sent him to my office to get a screwdriver. He did not know what a screwdriver was, apparently, so I had to explain that to him. To this day I can't understand how you make it to adulthood not knowing such a thing.
I decided to be the fatherly type and explain to him how the machine worked and how you fix it when it breaks. The look of amazement on his face was incredible. You would have thought I was splitting atoms right in front of him. He asked me how I knew such things and I pointed to the instructions taped to the side of it. That's when it hit me. His generation has a near total lack of curiosity. When confronted with a puzzle, they expect someone to supply the answer. When none is forthcoming, they move on never having solved the puzzle.
That's what makes the moronverse work. No one has to know anything or learn anything. They just pass around links, hashtags and pics to one another in the same way monkeys fling poo at one another. It's a world where everyone is shaking their piety bracelets at each other all the time, jostling for seats on the branches of the tree.