…he would look like Jeffrey Williams.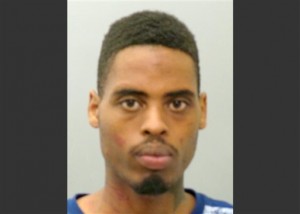 A 20-year-old man charged Sunday with shooting two police officers who were keeping watch over a demonstration outside the Ferguson Police Department had participated in the protests earlier that night, police said.
St. Louis County Prosecutor Robert McCulloch said Jeffrey Williams told authorities he was firing at someone with whom he was in a dispute, not at the police officers.
"We're not sure we completely buy that part of it," McCulloch said, adding that there might have been other people in the vehicle with Williams.
Williams is charged with two counts of first-degree assault, one count of firing a weapon from a vehicle and three counts of armed criminal action. McCulloch said the investigation is ongoing.
The officers were shot early Thursday as a crowd began to break up after a late-night demonstration that unfolded after Ferguson Police Chief Tom Jackson resigned in the wake of the scathing federal Justice Department report.
"He was out there earlier that evening as part of the demonstration," McCulloch said of Williams.
A 41-year-old St. Louis County officer was shot in the right shoulder, the bullet exiting through his back. A 32-year-old officer from Webster Groves was wearing a riot helmet with the face shield up. He was shot in the right cheek, just below the eye, and the bullet lodged behind his ear. The officers were released from the hospital later Thursday.
McCulloch said Williams used a 40mm handgun, which matches the shell casings at the scene.
Williams, who St. Louis County Police Chief Jon Belmar said is black, is being held on $300,000 bond.