When you live in Lagos on the Chesapeake™, people like to send you stories about the place, as if to be reassured that it is as bad as advertised. I've developed the habit of telling people that it is worse than they've heard. That's probably not true, as Baltimore has quite a reputation, but it makes people feel better about it. One of the items sent to me recently was this story about the restaurant closures in Baltimore. So far this year, 24 trendy restaurants have closed, continuing a trend of bad news for the city.
Baltimore has seen another spate of restaurant closures — as consumer habits change and suburbanites find less incentive to dine in the city, according to experts, restaurateurs and consumers.

At least 24 restaurants have closed since January, including Federal Hill stalwart Regi's American Bistro, Hampden's popular Corner Restaurant and Charcuterie Bar and Canton's Fork and Wrench.

Increased vacancy rates for small commercial real estate spaces reflect those closures. Chris LeBarton, a market economist for CoStar Market Analytics, said vacancy rates for spaces up to 3,000 square feet — often home to independent restaurants — rose to 8.1 percent at the end of March, up from 6.8 percent at the end of September, when the city underwent a previous wave of closures. That rate is at its highest since 2010.

Data from the U.S. Bureau of Labor Statistics point toward a trend long in the making. The number of Baltimore's food and drinking establishments decreased 4.6 percent between 2013 and 2016 — from 1,613 to 1,539. Nationally, the number of establishments increased by 5.7 percent, from 8.9 million in 2013 to 9.4 million in 2016.

Analysts attribute Baltimore restaurant closures to factors including the natural cycles of the industry, millennials' preference for convenience and value and — more particular to this area — competition in the suburbs and high crime rates that ward off suburbanites.

Downtown Partnership President Kirby Fowler pointed out that restaurants often have a three- to five-year life cycle.

"There might be issues involving the city's reputation, but it as well could be an explanation of what the restaurant is doing or not doing," he said of the factors driving local closures. "To open a restaurant is a risky endeavor, but it's what we all want to happen more and more."
One of the funny things about life in Lagos is just how many of the locals work hard to avoid noticing the obvious. You see the self-deception is this story. It's those rotten millennials or the wacky unpredictable nature of the restaurant business. There is an oblique reference to the "city's reputation" but the bulk of the article is about blaming things that have nothing to do with the problem. They say people see what they want to see, and that is very true, but people can also not see what they don't want to see too.
On the other hand, it is tempting to blame the crime wave that was unleashed by the Freddie Gray case. The riot was national news, but the subsequent spike in murder has done far more damage to the city's reputation. That's most likely not the cause of trouble for the restaurant and entertainment businesses. The real issue is the uptick in black on white crime, particularly in the hipster areas of the city. When a bartender at a trendy restaurant is gunned down in a robbery, white people take note.
There is a phenomenon, that most white people in vibrant areas intuitively understand, but people rarely discuss. That is as vibrancy increases, black-on-white crime escalates. The legendary quantitative blogger La Griffe du Lion showed that the risk whites faces from whites, in terms of crime, is independent of neighborhood size and racial composition. The probability a white is attacked by another white in a given year is the same no matter where he lives. This is true when adjusted for socioeconomic factors, as well.
On the other hand, as the number of blacks increase, the odds of a white being victimized by a black accelerate upward. The reasons are well known now. Blacks are more than three times more likely to commit violent crime than whites and black on white crime is vastly more common that any other inter-racial crime. It turns out that what everyone knows is true. Blacks prefer to target whites when committing crime, especially violent crimes. So as vibrancy increases, white victimization rates accelerate upward.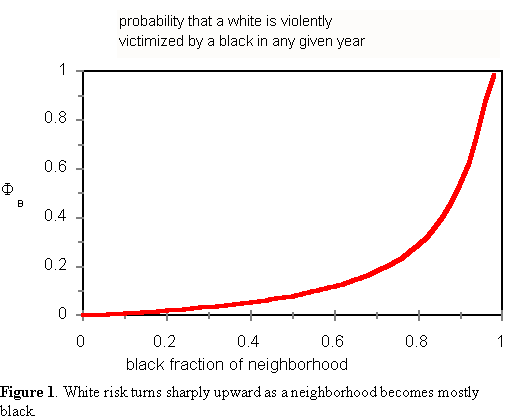 Again, most people intuitively know this and pick up on the clues from news accounts and conversations with friends. All it takes is a spike in well publicized black on white crime in a tourist area and whites stop going to the tourist area. Of course, this accelerates the trend, as the black-white balance swings to the dark side. It's why when a neighborhood around here "turns" it tends to do so slowly, then all of a sudden. As La Griffe du Lion noted, the threshold for these things is about 20%. After that begins the run for the exit.
If you look back at the population mix of cities like Baltimore and Detroit, they thrived up to the point where their vibrancy crossed the 25% line. At that point, the infrastructure started to crack under the strain of keeping the vibrancy under control. As the vibrancy spilled into white areas, whites began to flee, the vibrant-to-plain ratio began to quickly tilt to the former and the die was cast. It's why gentrification only works when the locals are physically removed or they are systematically walled off from the gentrifying areas.