Just when you thought it was safe, after the Mueller testimony was a colossal flop, President Trump finds a way to get everyone outraged all over again. His tweets about Congressman Elijah Cummings and his congressional district, have all the usual suspects pointing and sputtering. Given the amount of pointing and sputtering they have had to do the last three years, it is a miracle that they can even sputter. It should not be possible to be outraged for three years, but here we are.
Of course, the usual suspects are howling about the racism, as Cummings is black and his district is a black carve out. It includes some of the worst parts of Baltimore city, which means the mostly black parts. The district is about 30% white, which is why Cummings wins his elections with ease. In 2018 he won with 76% of the vote. If you are white and trapped in one of these districts, voting is pointless. In fact, voting for anyone is pointless as the results are known in advance.
As is custom with these types of districts, Cumming is as crooked as a ram's horn. His wife runs a shady charity that gets millions from people with business in front the Congressman's committee. He also seems to have some connection with the recent scandal that brought down the last mayor of Baltimore. In one of his tweets, Trump mentioned the corruption. It should be pretty easy to run a sting on Cummings, but he is off limits for the reason everyone knows, but does not say.
Of course, no one will bother disputing the facts of Trump's tweets. That's a dangerous subject that must never be mentioned. Any examination of Baltimore would not only reveal Trump is right, but also reveal those things we all know are true, but are told we must never mention. Baltimore is a black city and the highest crime areas are the blackest areas. For example, 92.9% of those arrested for murder are black and 91% of their victims are black. Crime in Baltimore is a black thing.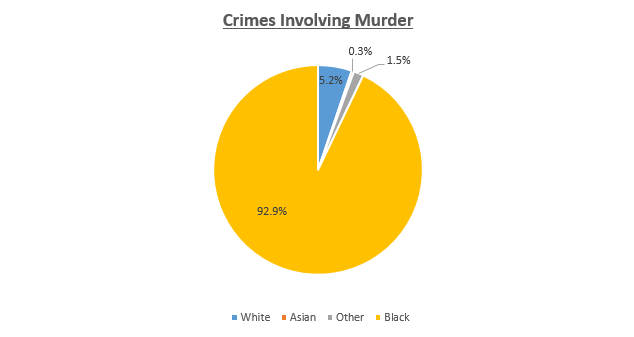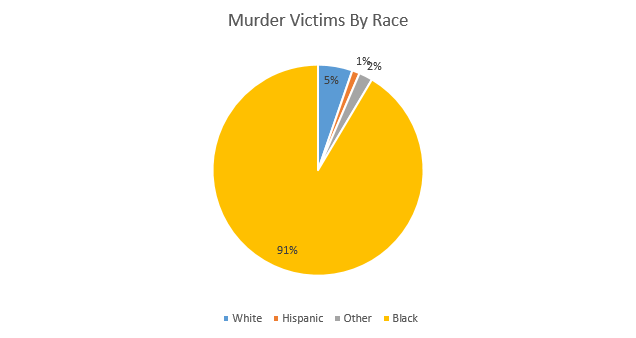 Of course, this is something everyone knows to be true. In fact, no one alive in modern America has ever lived in a time when people were puzzled about the nature of crime, with regards to race. The reason the urban hipsters exist is their hipster neighborhoods were ethnically cleansed of non-whites, mostly blacks. Giuliani cleaned up Manhattan by having the police put out the unwelcome mat for blacks. The stop and frisk policy was a success, because it relied on those assumptions about race and crime.
This link between race and crime is so well understood, efforts to conceal it have become a meme on social media. For example, when the news says they are looking for teens involved in a wilding incident, everyone knows what it means. Here's one from Washington. The same thing is true for the party shootings, which always have a certain color to them. Here's one from the current news. Shootings at block parties are like shootings at hip-hop concerts. Everyone knows what it means.
Of course, black crime is a young black male problem. When the Obama Administration tried to make the case that the cops are racists, they learned that the cops are probably not racist enough. In their report on crime, they found that young black males are 3% of the population and near 30% of homicides. Blacks were disproportionately represented as both homicide victims and offenders. The offending rate for blacks (34.4 per 100,000) was almost 8 times higher than the rate for whites (4.5 per 100,000).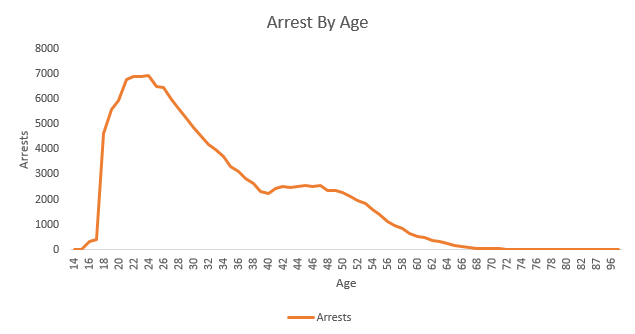 The fact is, crime in Baltimore, like everywhere in America, is a black thing. The internent meme "1350" works because it is something everyone knows, even if they don't know the exact details. Even when the issue is contained in certain sections of cities, people are made painfully aware of this reality, because crime in the hood does not stay in the hood. Every white person in America has a story in their family tree that involves leaving the old neighborhood because it went bad.
That brings us back to Trump. In sane world, his noticing the obvious should not be front page news, but we don't live in a sane age. As the legendary quantitative blogger said long ago, "There are very few moments in a man's existence when he experiences so much hostility, or meets with so little benevolence, as when he challenges fashionable perceptions of race." Trump is about to face a fury of hostility from the usual suspects that no man has withstood in the past.
In fact, one of the usual suspects responsible for inflicting Barak Obama on the country is predicting that this is the Gettysburg of his presidency. From the perspective of the usual suspects, of course, Trump is Lee in this analogy. Like Charlottesville, this event will be the rallying cry for the Left until the election. Whatever other issues come up in the next year and a half, the 2020 election will be about race, specifically the old Progressive view of race versus one based in observable reality.
That is fundamentally the choice before us. Do we want to accept the Progressive view on the human condition, slowly sinking into the desperate, grinding poverty of a place like Baltimore? Or, we will not accept that and do what is required to prevent America from becoming a multicultural ghetto ruled by and parasitic elite? That's what Baltimore is right now. It is a vision of tomorrow that no one should welcome. It does not have to be that way, but the only way to prevent it is to face it.
---
Support the media that supports you. While all of us toiling in the fields of dissident media are motivated by a sense of duty, having a place to sleep and food on the table still requires money. Five bucks a month is not a lot to ask. Or, you can send money to me at: Z Media LLC P.O. Box 432 Cockeysville, MD 21030-0432. I now have a PayPal setup for those who prefer that method to donate. Thank you for your support!
---