The extemporaneous mutterings of Hollywood people are often amusing, because these people are both dumb and insulated from the real world. We like to think these people get loopy after years of fame, fortune, drugs, alcohol and so forth. That's not the case. Almost all of them were nuts long before they got famous or even got into the business. The best in recent years has been Alec Baldwin. The guy is what the Brits used to call mad.
I flew to Hawaii recently to shoot a film, fresh on the heels of being labeled a homophobic bigot by Andrew Sullivan, Anderson Cooper, and others in the Gay Department of Justice. I wanted to speak with a gay-rights group that I had researched and admired, so I called its local Honolulu branch.
The office number turned out to be some guy's cell phone. I left him a message—I said, "I'm from out of town, I'm visiting Hawaii on business, I'd like to  get some information on your group." After two or three more calls, he answered the phone. I said, "Yeah, I'm the guy that called about your organization." And he said, somewhat impatiently, "Okay, well, what did you want?" I said, "Well, let me put it to you this way, Nick. Your name is Nick? Nick, let me begin by asking you a question. Who would you say, by your estimation, is the most homophobic member of the entertainment industry currently in the media?" And he paused for a long count of four and said, "Um … Alec Baldwin?"
And I said, "Ding, ding, ding, ding! Bingo, Nick, bingo! That's who you're talking to."
I said, "Nick, I want to come in and talk."
I met with Nick and others from two LGBT organizations. We talked for a while about the torment of the LGBT life many of them have lived while growing up in traditional Hawaiian families. Macho fathers. Religious mothers. We talked a lot about words and their power, especially in the lives of young people.
One young man, an F-to-M tranny, said, "Are you here to get dry-cleaned, like Brett Ratner?" Meaning I could do some mea culpa, write them a six-figure check, go to a dinner, sob at the table, give a heartfelt speech, beg for forgiveness. I thought to myself: Beg for forgiveness for something I didn't do?
I said, "No. I don't want to get dry-cleaned. I don't want to be decontaminated by you, Karen Silkwood–wise, scrubbed down. I want to learn about what is hurtful speech in your community. I want to participate in some programs about that. Or underwrite one. And then, like you, I just want to be left alone."
His line about the Gay Department of Justice is a good one. Giving homosexuals a veto over public discourse is just socializing insanity. Homosexuals do have unpleasant lives due to losing the biological lottery at birth. There is a good bet that homosexuality is just one manifestation of a larger psychological problem. This story from the failed state of California is not a promising omen.
A senior at Azusa High School will be the first transgender student to play on the girls' varsity softball team, school officials said Friday.
Patrick Cordova-Goff, 17, who goes by Pat, is a member of the cheer squad and student body president. She could also be the state's first transgender student to play softball at a high school.
Pat, who played baseball in her freshman year, began trying out for the softball team two weeks ago, said Azusa Unified School District Supt. Linda Kaminski.
The transgender teen learned she made the softball team when high school officials posted tryout results Thursday, Kaminski said.
The first game is scheduled March 5 at the school.
"The softball team is practicing and focusing on their upcoming season," Kaminski said. "Coaches from nearby districts are positive about the upcoming games."
Kaminski said only a few people have expressed concern about the school's decision to let a transgender student play on the girls' softball team.
"But when they hear how we are addressing their concern, they are understanding," Kaminski said.
Pat's path to making history in her district, perhaps the state, was paved by two major events.
Let's get a look at "Pat"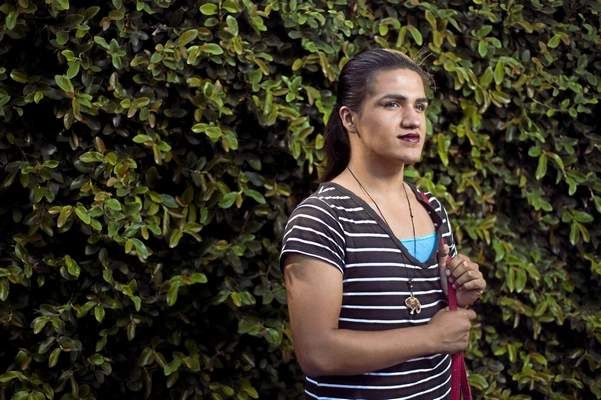 Unsurprisingly, Pat looks like a young man in drag. That's because Pat is a young man in drag.
One of them was California AB 1266. The state law–signed by Gov. Jerry Brown last August–prohibits public schools from "discriminating on the basis of specified characteristics, including gender, gender identity and expression," the bill reads.
The law also allows students to participate in sex-segregated school programs and activities, such as athletic teams and competitions.
The California Interscholastic Federation, which governs school sports, took action and amended its Constitution and Bylaws to include new guidelines for transgender students participating in high school sports.
The new rule states that all students should have the opportunity to participate in CIF activities in a manner that is consistent with their gender identity, irrespective of the gender listed on a student's records.
The bylaw went into effect beginning the 2013-14 school year, according to CIF-SS Communications Director Thom Simmons.
CIF officials said they did not know whether Pat was the first transgender student in the state to play on a girls' softball team.
"No appeals have been filed in the CIF Southern Section or any other sections across the state to my knowledge," Simmons said.
No student or school has sought assistance from the CIF's Gender Identity Eligibility Committee, which looks at whether a transgender student is eligible to play in a sport or not, officials said.
Pat, who has a 4.0 grade-point average and founded Azusa's Gay-Straight Alliance, a high school club advocating transgender student rights, is just one of many students across the country driving cultural change.
Last year, in Huntington Beach, Cassidy Campbell ran a successful campaign to become Marina High School's first transgender homecoming queen.
"I'm doing this for the kids who can't be themselves," Cassidy told The Times.
That same year, Pat also sought a bid for homecoming queen, but she did not win, the San Gabriel Valley Tribune reported.  The paper was the first to report on her softball tryout.
I will allow for the possibility this young man thinks he is a woman. There are cases where people are convinced they are invisible or missing limbs. These beliefs are easily refuted, but the person persists in their belief. When a person is convinced of things that are easily refuted, we assume they are insane. If Pat were convinced he was a bird, no one would let him jump off a building. For his own safety, adults would step in and get him whatever care was available for his affliction.
There's also the possibility that Pat is just an attention seeker. From the news accounts, it appears his first attempt at being a public nuisance failed. Being publicly gay is no longer shocking or even interesting. He started a club and tried various ways to make a pest of himself, but no one seemed to care very much. Now that he is wearing a sun dress and trying out for the softball team, everyone is noticing. Not everyone can be Miley Cyrus, but they can try.
What's going on here is we are socializing the mental illness of this person. Everyone is being forced to alter their lives to accommodate a crazy person. It is one thing to pay some tax to fund an asylum. It is quite another for girls to be forced to compete against a man as a condition of joining the softball team. This puts the safety of young women at risk so a handful of lunatics can get some grace on the cheap. It is only a step removed from human sacrifice where one must die so others can be happy.