A popular topic of conversation on the Dissident Right is the imagined future the Cloud People have planned for us. The word "Brazilification" gets thrown around a lot. Going by mass media, the future will be populated by hairless, caramel colored mulattoes and Asians. That's unlikely, but the majority-minority future is inevitable. That means America will be a very different place in another generation. Just look how fast Los Angeles went from being surf city to a sprawling version of Tijuana.
Digging around in Baltimore City arrest data last week, I got curious about what other cities had exposed their arrests data to public download. There's not a lot of consistency, as this appears to be a new project. My guess is some company has figured out how to game the Federal grant system and they are helping cities upgrade their IT systems with Federal dollars. Anyway, I found a data set from the Los Angeles police department that is pretty big. It is their arrest data going back to 2010.
Los Angeles is a city of 3,884,307 people. Since the start of 2010, the LAPD has made 1,146,393 arrests, which is roughly 450 arrests per day. That's an interesting figure, given that LA has a relatively low homicide rate of 6.7. Baltimore has a murder rate nine times higher, but an arrest rate just 10% higher than Los Angeles, when adjusting for differences in population. Maybe it is just the nice weather that makes people less inclined to homicide one another. Or, it could be the population mix. Here are the demographics of LA.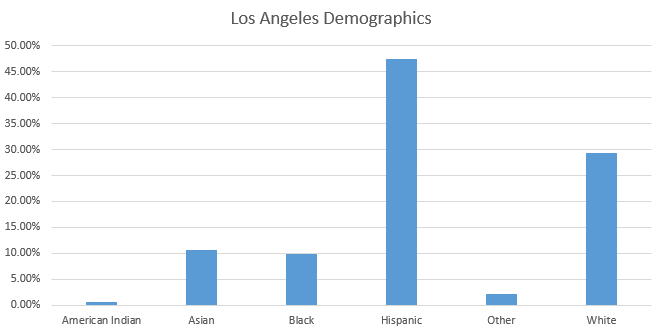 Los Angeles not only has a relatively small black population, it has a much larger Asian population than you see in most cities. In fact, Los Angeles is an interesting mix, because it is one of the few majority-minority cities. It's also a large city so the sample size is very big. A boutique college town with lots of diversity is not going to tell us much about our multicultural future, despite what the Cloud People may think. Here's the break down of arrest per population group.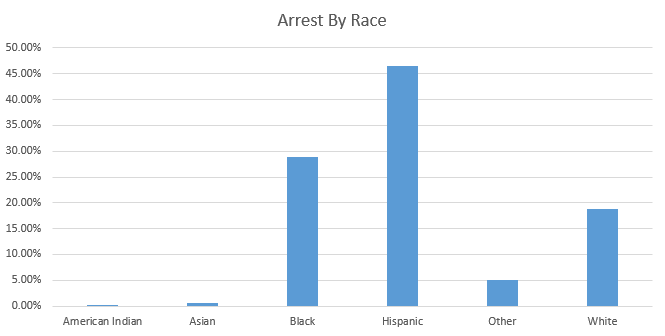 The law abiding Asians make up for a lot of black crime when you look at the data. The cool thing about the Los Angeles arrest data is they go further than most cities in identifying the ethnicity of the offender. That's probably something we will see everywhere as America gets less white. The old way of counting white and non-white only made sense when America was mostly white. In the Cloud People paradise, every group gets a classification in the system. Here's a break down of Asians into their known groups.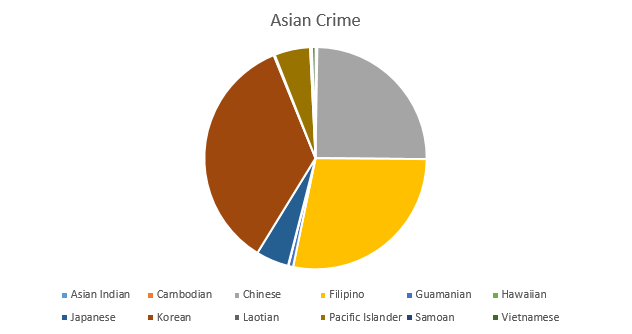 Of course, the fun begins when we start to look at homicide numbers. Here's the break out of murder related offenses by race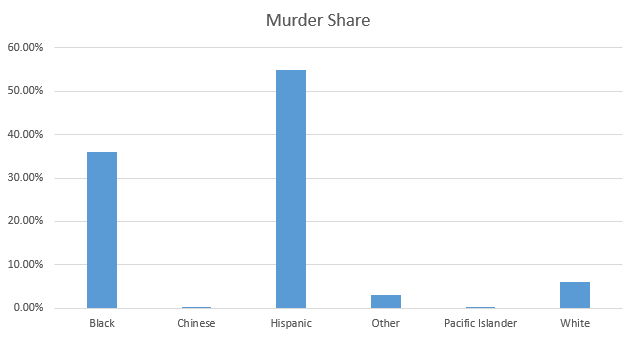 What's interesting is that Hispanics are not over represented in overall arrest data, compared to their share of the population, but they are over performing in the violent crime area. That's probably due to the drug trade, but that is a guess. The arrest breakout also helps when trying to parse Hispanic whites from non-Hispanic whites in national crime figures. Of course, the old familiar pattern of black violent crime is present in the LA numbers. Blacks are 10% of the population and 36% of murder related arrests.
Here's the break out by age.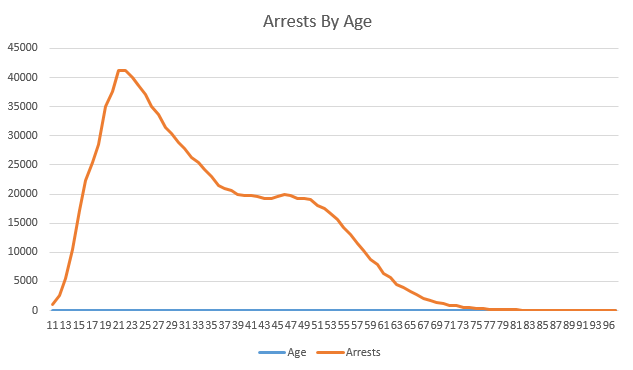 Here's the arrest by day. It seems that warmer areas have a flatter curve on this for some reason. Maybe cold weather alters police behavior in some way or maybe criminals prefer mild weather. At some point, once I have a enough data from different regions, I'll do a degree day calculation on arrests to see if there is a correlation. That would maybe say something about police habits.. Doing the same day for day of the crime would maybe say something about the behavior of criminals. Or maybe not.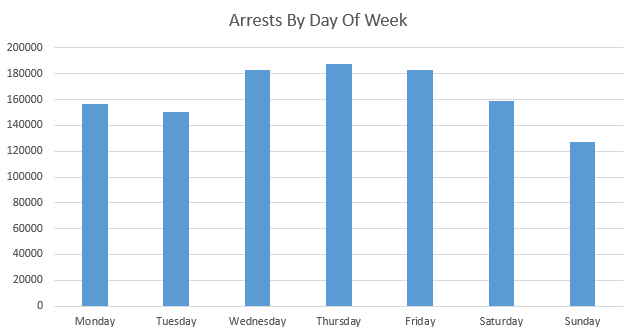 One interesting thing in the LA data is the number of old people in the arrest data. There are 48 arrest records for nonagenarians. Two were homicides, which is incredible. Even more amazing is 15 arrests were for drunkenness. Maybe this is not so odd, as alcohol related offenses are the third most common arrest code in the system. Drugs are number two with Miscellaneous being the top reason to arrest someone. This is a pattern I saw in the Baltimore data. The arrests codes are not well maintained or enforced.
Here is a break down of arrest codes.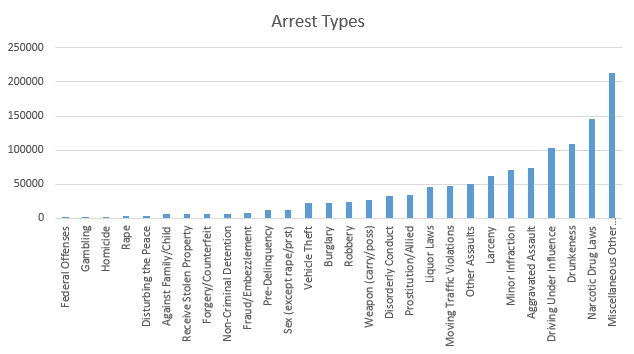 What becomes clear when looking at the Los Angeles crime data is that de facto segregation is a fact of life in a majority minority city. When you break it out by race and area, you don't have to know a thing about LA to see the pattern. The other thing is Hispanics bring elevated levels of crime, but not the rates you see with black. It's one reason the Cloud People like Hispanic migration. They get all the benefit of a servant population, without the headaches that come with Africans.
The other interesting thing about Los Angeles is that it is majority-minority, but whites control the political system. Look at the city council. It's mighty white for a place with just a 30% white population. The truth is, Hispanics are not a group with a real identity. That's just a made up thing by Progs. Mexicans from the north have little in common with Guatemalans or even Mexicans from the south. This makes forming a unified coalition that can punch commensurate with its weight nearly impossible.
That's another reason the Cloud People have no fear of migration. So far, it has not cut into their authority. If anything, it makes it easier for them to deal with blacks and troublesome whites. Progs are diluting black influence in their coalition with Hispanics and they are replacing the white working class with them. The Hispanic laboring class makes fewer demands and is far less organized. They may not be reliable voters, but they are cheap voters, relative to working class whites. That's the way it works for now.