On more than a few occasions, I have made the point that the greatest threat to Jews in America is other Jews. While there no doubt exist plenty of anti-Semites, counter-Semites and bigots, they are powerless to act on their opinions. Sure, one can go bonkers and shoot up a synagogue, but that guy could just as easily have thought his dog told him to shoot the Pope. In a big open country, you will have a nut of every variety and on occasion, one will slip the leash and cause mayhem. There's no remedy for it.
As far as a serious threat to Jews, there never has been one in America, because the culture of the country has never been hospital to confrontational tribalism among white people. Instead, it is a frontier culture, where tribes just avoid one another if they cannot get along. Talk to a European about moving around and they will marvel at the casual way in which Americans just pick up and leave if they think the next town is better. The result of this is our anti-Semites tend to be separatists, not confrontational.
That's a good thing, but it is not an immutable thing. As the country becomes majority-minority, whites are slowly starting to think of their racial identity as their primary identity and their primary interest. In one of life's ironies, the Progressive demands for tribalism are creating a white tribe, organized to defend white people from the predation of the Left. It may simply be an inevitable result of demographics, but white Americans are slowly coming to terms with the reality facing them. As a result, that frontier mentality is waning.
This will be a different world for Jews, who have enjoyed a casual indifference from the white majority, since Jews migrated here in bulk at the start of the last century. Instead of a disjointed and raucous host population that sees Jews as just another ethnic group within the white majority, Jews will have to live in a world of identity politics. That's going to mean a return of the old habit of policing the ranks. Jews will have to hunt down and silence members of their own tribe who are bad for Jews. People like Michelle Goldberg.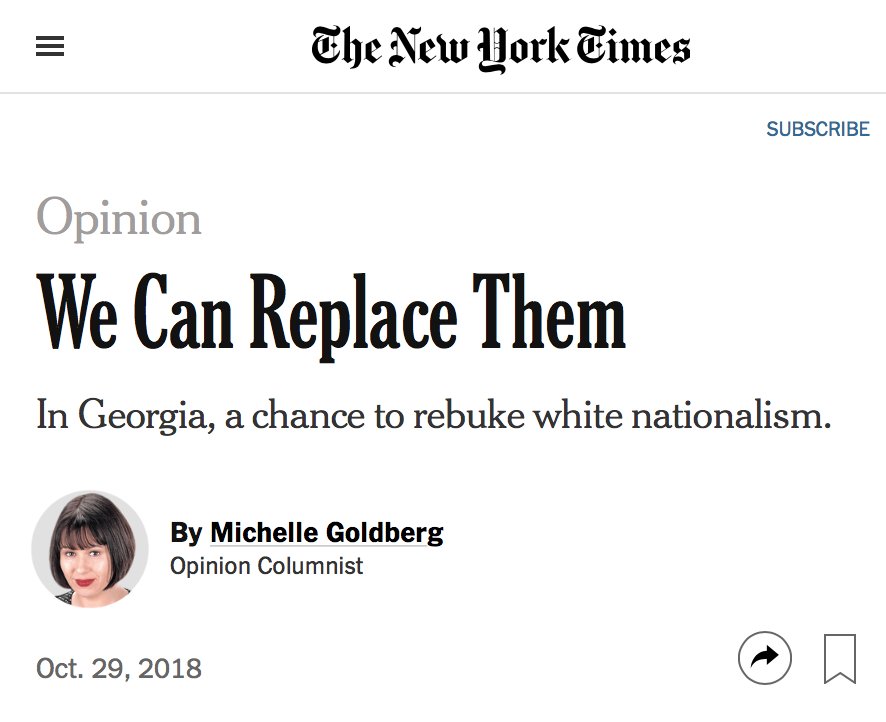 I have gone around and around with anti-Semites on the issue, but I am not an anti-Semite, or even a counter-Semite. I don't do the point and sputter, as I think antisemitism, in its primary form, is just an opinion. The same is true for counter-Semites, who strike me as quite reasonable, even if we don't always agree. As a result, I get along with everyone on the Semitic spectrum. I have readers who are Semites, philo-Semites, anti-Semites and counter-Semites and everyone in between. Indifference has his benefits.
That said, the endless taunting that comes from liberal Jews in the media is going to make even the indifferent observer sympathize with the anti-Semites. How could it not? I look at that post and see a smugly stupid woman celebrating the demographic replacement of white people. My first thought is, "who does this woman think is going to defend her when they come for her?" My second thought is, "even if I'm still around, I won't be lifting a finger for her." Michelle Goldberg is bad for Jews and Jews would be wise to muzzle her.
To quote Burke, "When bad men combine, the good must associate; else they will fall, one by one, an unpitied sacrifice in a contemptible struggle." That's the situation facing Jews in America. In their ranks are bad people, combining to set the world on fire. No question they are aided by plenty of liberal whites in their efforts. The trouble is, whites are permitted to call out liberal whites for this stuff. Only Jews can police their ranks and thus far, we are greeted with a deafening silence. Good Jews stand by and do nothing.
Now, I've been around long enough to know that it is not easy for Jews to publicly call out fellow members of the tribe, particularly on tribal grounds. That silent consent has been a valuable survival skill, but now that virtue is being fashioned into a vice. Odious carbuncles like Noah Rothman, rely on the unwillingness of Jews to speak out, so they can spread their toxic filth in the political culture. Michelle Goldberg just assumes no one will dare confront her over her anti-white hatred. That can't go on. It won't go on.
Sensible Jews have to accept the wisdom of Burke and condemn these bad Jews, not for being mistaken, but for being bad for Jews. More important, sensible Jews need to accept the support from sensible whites in this matter. No one is expecting Jews and Gentiles to lock arms and sing Amazing Grace. What we can expect is to keep the crazies on the chain and for sensible people to take pleasure in putting the crazies back on the chain, even with the support of those outside their tribe. Good neighbors do that for one another.
The stuff appearing in the media every day from liberal Jews is the great threat to Jews in America. Allowing unstable lunatics to call for white replacement, with the imprimatur of the elite media, is playing for fire. Sensible people, when they see a child, a simpleton or a lunatic playing with fire, they do what they must to stop it. That's the situation facing sensible Jews in America, with people like Michelle Goldberg. Her bigoted rhetoric is going to get a lot of people killed, unless her people throw a net over her.