This post from NRO's Mona Charen is a good example of how the distance between the Buckley Conservatives and the Progressives has narrowed to the point where it is hard to see any light between them.
The headline was numbingly familiar: "For Blacks, College is Not An Equalizer." The op-ed in the Washington Post by Ray Boshara explored what he called a "troubling paradox," namely that so many well-educated black Americans "feel so economically insecure." It's a startling fact, Boshara continued, "that blacks with college degrees have lost wealth over the past generation." White college graduates "saw their wealth soar by 86 percent" between 1992 and 2013, while black college graduates experienced a loss of 55 percent over the same period. I made a little bet with myself as I read the piece: "Two-to-one he doesn't talk about family structure."
It's funny, but the little bet I made with myself while reading it was "A bazillion to one says she dares not mention IQ." I won that bet, of course, because the subject of intelligence is now a forbidden topic with the so-called conservatives. The subject of group intelligence, or even group differences, causes these people to faint. They have fully internalized the magic of the blank slate so therefore biology is ruled out of any discussion of human behavior or quantifiable group differences. Magic is always the go to move.
The fact is, the efforts to get more blacks into college, and out of college with a diploma, has not changed the fundamentals of group IQ difference. All the affirmative action in the world is not going to change this fundamental reality.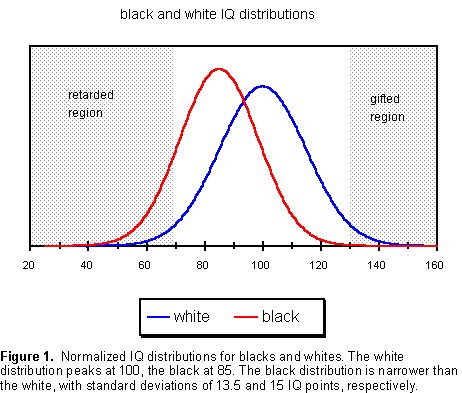 IQ is the single best predictor of life outcomes. The lowering of standards at colleges, in order to increase diversity on campus, just means more people with an IQ of 85 carrying around a college diploma. It has no bearing on the earnings gap between those with a 100 IQ and those with an 85 IQ. As everyone in the dreaded private sector knows, the diploma counts for nothing when the employee is being evaluated on their work product. Poor work produced by a college graduate is still a poor work product.
IQ is not the only taboo avoided in this piece. Immigration is also one of the banned topics with the so-called conservatives.
As I feared though, he avoided what I consider to be a key factor in the black/white difference. The great divide in wealth accumulation in America is founded on marriage. Married couples accumulate much more wealth than divorced or never married people do. A study published by the National Bureau of Economic Research found that the median married couple in their sixties had ten times more wealth than a typical single person. An Ohio State study found that divorce decreases wealth by an average of 77 percent. Jay Zagorsky, the study's author, counseled: "If you really want to increase your wealth, get married and stay married. On the other hand, divorce can devastate your wealth." Now consider the demographics of black college graduates. The overwhelming majority are women. Females now account for 66 percent of all bachelor's degrees earned by blacks, 70 percent of master's degrees, and 60 percent of doctorates. Women tend to desire husbands who are as educated or more educated than they are, which makes marriage more difficult for black women with higher education degrees. According to an analysis by the Brookings Institution, the percentage of black women college graduates aged 25 to 35 who have never married is 60 percent, compared to 38 percent for white college-educated women.
That paragraph is hilarious for a number of reason. Mona Charen presuming to speak for the tastes of black women in the mating markets is laugh out loud funny. There's also the fact that she confuses income and wealth. The bigger issue here is the fact that she cannot bring herself to mention the real reason black males have rocket high unemployment levels. That's immigration. Cheap foreign labor and a willingness to tolerate idle black men, has resulted in lots of idle black men. This is really not difficult material.
The main reason Buckley Conservatism no longer has a constituency outside the ruling class is they have accepted all the premises of the Progressives. They are convinced that all humans are just amorphous blobs that can be shaped at will. Differences in outcome, therefore, must be due to society. That rules out the right answer and leaves them in the same carnival of magical thinking as the Progressives. The only difference is one side has slightly different incantations and abracadabra words than the other.