One of the hardest things to do when thinking about a subject is to start without a desired outcome. Most people start with the end in mind and work backwards, finding supporting evidence or constructing their argument. There's noting wrong with it, just as long as you are willing to change your mind when you stumble upon contradictory data or an alternative argument. That's hard, though, so most people don't do it. Ideologues stubbornly cling to their ideology, because it is easier than confronting their beliefs.
The funny thing is most people don't realize they are thinking backward. Even with the popularization of the term priors by economists, few people bother to examine or even consider that they are working within a moral framework. In fact, most people don't even consider the possibility of there being a moral framework. In America, at least, people who engage in publicize discourse at any level are almost always operating from the assumption they are freely exploring the full range of possible outputs and inputs.
The truth is, Progressives have imposed a moral framework on American public debate and most of their efforts are aimed at maintaining it. The four mortal sins of the modern age are antisemitism, racism, sexism and homophobism. There's nothing rational about these sins. In fact, these crimes have little support in Western history. All of them were cooked up in the 1960's as the New Left seized control of public institutions. A quick look at Google N-Gram for their frequency in print makes this point quite clearly..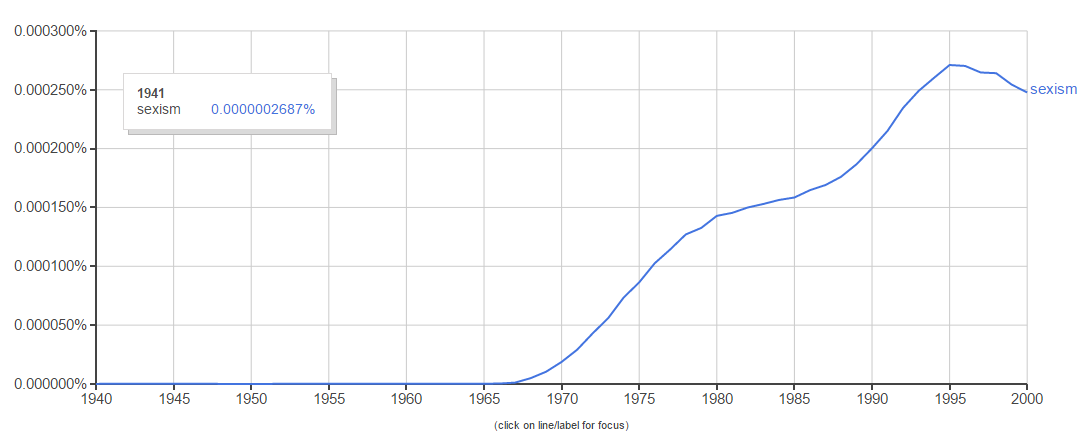 If you could go back in time and retrieve some of the most Progressive thinkers from a century ago, and bring them into the present, they would be baffled by the limitations on modern debate. Teddy Roosevelt would be baffled as to why Jews, blacks and women were even allowed to participate in public debate. The point here is that the moral framework in which we operate as modern Americans is entirely contrived and entirely new. It's as if we have been colonized by a minority cult imposing their alien religion.
Few think much about this as most of us have been born into it, but the way to understand the current troubles and the Dissident Right is to understand this point. Our public debates in the West are not about finding the right trade-offs to arrive at a sensible set of public polices. It is about public piety and defending the dominant moral framework. For example, when a guy like Sargon of Akkad decides to form a new cult based on Civic Nationalism, it is important to focus on what goes unsaid, rather than what he says.
Now, I've covered the limitations of Carl Benjamin in the past, but it is still useful to look through his new cult's founding principles. What's missing from his laundry list of items, obviously plucked from libertarian forums, is freedom of association. The reason for that omission, and I doubt he thought much about it, is that freedom of association means the freedom to privately discriminate. If you are free to associate with whomever you like, you are free to disassociate with whomever you like, for any reason you like.
For guys like Benjamin and his followers, they have been marinated their whole lives in the morality of the Left. They just assume that private discrimination is immoral and always has been immoral. They assume it to be true in the same way people accept gravity. Even when they think about it, they quickly realize this road leads to heresy, so they change the subject. In the case of Benjamin, he is is publicly in favor of laws against private discrimination. He thinks the Christian baker should be compelled to bake the cake.
The amusing thing with libertarians, but also the incoherent liberals like Benjamin, is that they will fly into a rage if you suggest ending abortion or oppose drug legalization. They demand the citizen's absolute right of dominion over their body. There's one exception. A person is free to fill their body with drugs or hire someone to rip[ out their unborn child, but they have no right to position their body next to someone else without first getting permission from the state. The irrationality of that position never occurs to them.
The fact is though, individual liberty starts with freedom of association. No one has a right to be around you, which is the fundamental argument underlying the four mortal sins of Progressivism. Blacks have a right to associate with whites. Women have a right to work in your business or join your club. Jews have a right to join your golf club. Homosexuals have a right to be around your kids. Restore freedom of association and all of those conjured rights become irrational and unenforceable. Modern liberalism collapses.
That sort of forward thinking is strictly prohibited, so everyone is forced to think backward, starting with the "Four Isms" and then creating a moral philosophy within those limits. It's not hard to imagine Benjamin sweating over his manifesto, with the image in his mind of a purple faced racist standing in the doorway to block blacks, Jews, gays and women from entering his business. Liberals and libertarians are forced to defend liberty within the increasingly constrained space permitted within the moral framework of Progressivism.
That is the fundamental reason the Dissident Right exists. It is a rejection of that moral framework. The alt-right kids talk about being red-pilled, but what they really mean is they asked themselves something like  "why do blacks have a right to be near me?" No one was able to provide an answer, other than "shut up!" What we're seeing is smart young white guys figuring out that the starting point of any sane society must be freedom of association. No one has the right to be around you or have easy access to your culture.
Group identity is the natural outgrowth of personal liberty. If you are free to be around whomever you choose, the group has the same right. If a bunch of libertarians wish to setup a town on libertarian principles, and make adherence to those principles a condition of membership, they have the right. If on the other hand, everyone must seek permission to association with others, then there can be no individual liberty of any kind. Places where people must get permission to speak and move are called prisons.