On social media, a mini-war has broken out between the pro-DeSantis faction and the pro-Trump faction. An example of the former is Pedro Gonzalez who spends his days on Twitter insulting Trump supporters. An example of the latter is Scott Greer, who also spends his days in Twitter, but insulting DeSantis people. Both may be paid "influencers" but that is not entirely clear. The DeSantis people are mostly anti-Trump people, while the Trump people are mostly pro-Trump.
That last bit is important. DeSantis has mostly attracted the on-line influencers who feel insulted by Trump for some reason. Most were superfans of Trump in 2016, doing the whole god-emperor thing, but then soured on him for some reason. Ann Coulter is the queen of this crowd. She now has the same enthusiasm for DeSantis as she had for Trump, Romney, Christie and George Bush. If history is a guide, Queen Ann will one day be trashing DeSantis on the Bill Maher show.
The basic argument from the DeSantis partisans is that he has a chance to win the general election, while Trump has no chance. More important, DeSantis knows how to govern, which he has proven in Florida. There is no doubt that he has been a great governor for Florida. He also has a very friendly state legislature, which makes it simple for him to get things done. There is no data to suggest he has a better shot against Biden than Trump, but that is the claim.
The truth is electability has never been a factor in these races. Most voters are not like most Republican politicians in that they do not negotiate with themselves. They vote for the candidate they like, not the candidate that a conservative commentator swears will be acceptable to the Democrats. Even if their preferred option has no chance in the general, most voters will go for the guy who speaks to them. It turns out that most people are decent and honest, not scheming weasels.
That is the argument for Trump. Despite his faults, and he has many, he represents those decent and honest people. He is a symbol, more than a candidate. Supporting Trump is about opposing the people who rule over us. It is as close as we get in America to class warfare. Trump's voters are the great unwashed, the forgotten Americans who hate what has happened to their country. Trump is not the solution, but he makes noise on their behalf. That is enough.
Both camps are right in the same way that two people who have different favorite ice creams are right, even though they disagree. There is no empirical argument in favor of either guy as it is purely a matter of opinion. Pedro Gonzales is mad at Trump for not being the savior he hoped for in 2016, so he is has jumped on the DeSantis side, while Scott Greer still loves Trump and now hates DeSantis. Their arguments in favor of their guy are cognitively meaningless.
That said, we can assess the electability claim. The place to start is the 2020 election broken out by electoral votes. All of those national polls that people wave around are meaningless as we pick presidents by indirect election. In the last election, Biden won 303 electoral votes, while Trump got 235. The threshold to win is 270. There were a lot of shenanigans in the 2020 election, but they were repeated in 2022, so we have to treat them as a feature, rather than a bug.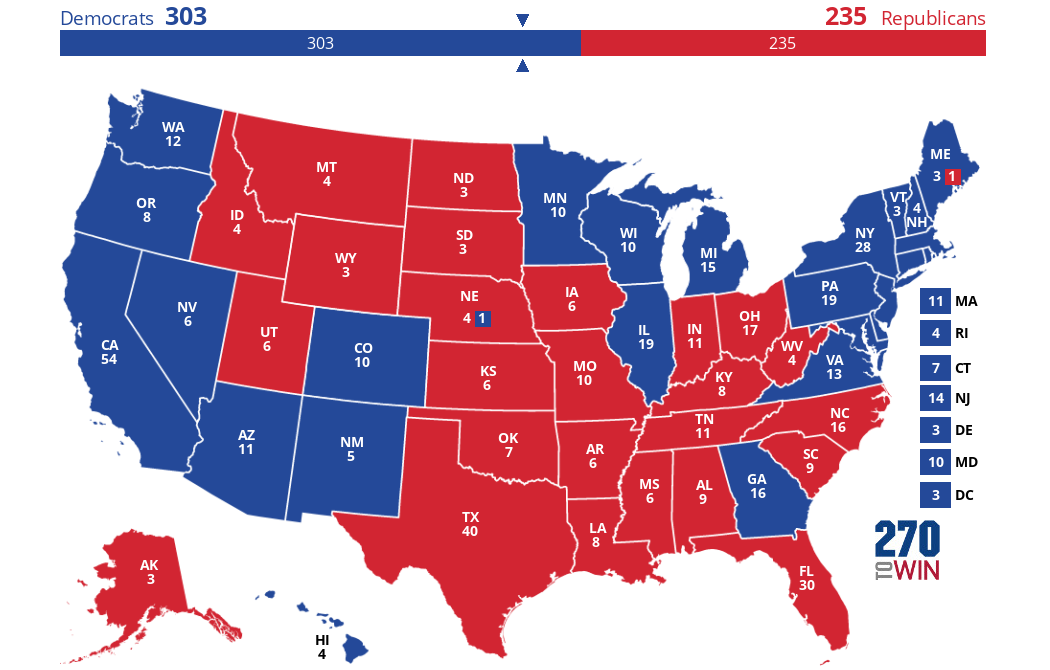 The next step in assessing the electability claim is to ask which states are they mostly likely to flip into the Republican column. You can quickly rule out WA, OR, CA, CO, NM, ME, VT, NH, MA, CT, RI, NY, NJ, DE, MD, VA, HI and IL. That leaves NV, AZ, MN, WI, MI, PA and GA. There are eighty-seven electors in those states. A Republican will need to flip some combination of states to gain thirty-five electors. He will also have to hold the states that Trump won in 2020.
The state most likely to flip is Georgia. The Republican Party there has started to figure out what is happening to them and they have adjusted. The 2022 election was a small wake up call for the white vote in the state. That gets the Republicans halfway to their goal, but then things get dicey. Arizona and Nevada appear to be fortified for democracy now, as we saw in the 2022 election. Pennsylvania, of course, is heavily fortified for democracy, as we saw in the Fetterman race.
This means a Republican will need to win Michigan or Minnesota and Wisconsin, something has not been done in generations. In 2016, Trump won Michigan and Wisconsin, but lost Minnesota. It was close, so it cannot be ruled out entirely, but it is not the way to bet. Realistically, the only path to victory for the Republicans is to take back Georgia and then win Michigan, but they will still be short four electoral votes, so they have to focus on one other state as well.
What this tells us is the odds for a Republican win are awfully long. They have to win states that are mostly in the other camp by default. Then they have to defend their own states, some of which are trending the wrong way. The Yankee invasion of North Carolina is turning the state into Virginia. Texas is slowly becoming California as those weirdos arrive in droves. Barring some sort of black swan event, Joe Biden will cruise to victory in 2024 no matter his opponent.
What this says is that the choice for Republicans is not centered on electability, but who they prefer to see lose in 2024. The neocons and conservatives prefer to see Trump lose, but they are so full of hatred of white people now, they will root against him in the primary, even if it works against their interests. The DeSantis fans are coming around to the same view, thinking that Trump is some sort of bad juju that must be exorcised in order to return to the 1980's.
For dissidents, it is a different question. DeSantis is a good governor and it would be better if he finished the job and set an example for others. We do not need another too nice to win loser presidential candidate. Trump is a crazy man who sends the bad guys into paroxysms of vengeful hysteria. He was a lousy president, but he has proven to be a great wrecking ball. His revenge tour, especially if he is indicted, will be the mother of all crap shows. A good time will be had by all.
On the other hand, DeSantis losing the general after the party swore he was better than Trump, discredits the whole process and drives home the point that we live in a one party system now. Many will assume that he was the victim of more democracy fortification, while others will read the map, analyze the demographics and see that there is no path forward in the current system. Reasonable Ron losing could be worse for the system than Demonic Don losing again.
In the end, it is probably a coin flip. Those who have yet to wake up to the present reality will place their hopes according to their desires. To paraphrase the American transcendentalist Theodore Parker, we should not pretend to fully comprehend the political universe, because the arc of history is long. We can only see a bit of it and make calculations accordingly. While the arc of liberal democracy is long, we can be sure that it bends towards civilizational disaster.
---
If you like my work and wish to kick in a few bucks, you can buy me a beer. You can sign up for a SubscribeStar subscription and get some extra content. You can donate via PayPal. My crypto addresses are here for those who prefer that option. You can send gold bars to: Z Media LLC P.O. Box 432 Cockeysville, MD 21030-0432. Thank you for your support!
---
Promotions: We have a new addition to the list. The Pepper Cave produces exotic peppers, pepper seeds and plants, hot sauce and seasonings. Their spice infused salts are a great add to the chili head spice armory.
Above Time Coffee Roasters are a small, dissident friendly company that roasts its own coffee and ships all over the country. They actually roast the beans themselves based on their own secret coffee magic. If you like coffee, buy it from these folks as they are great people who deserve your support.
Havamal Soap Works is the maker of natural, handmade soap and bath products. If you are looking to reduce the volume of man-made chemicals in your life, all-natural personal products are a good start.
Minter & Richter Designs makes high-quality, hand-made by one guy in Boston, titanium wedding rings for men and women and they are now offering readers a fifteen percent discount on purchases if you use this link. If you are headed to Boston, they are also offering my readers 20% off their 5-star rated Airbnb.  Just email them directly to book at sales@minterandrichterdesigns.com.
---