A good rule in life is that anything that has value is being faked. People in the collectibles business just assume everything is fake until proven otherwise. A fun book to read on art forgery is called The Art of the Con. Some of the scams described are rather outlandish, which makes it  fun read, but the theme throughout is always the same. If it has value, someone will find a way to fake it.
Of course, this is true everywhere. Baseball had a steroid scandal because there was money to be made in getting bigger, faster and stronger through any means available. If a drug could make you taller, then basketball would have a problem with it. Endurance sports like soccer and tennis have problems with players using drugs to increase endurance. The drug Sharapova used was to increase her cardiovascular capacity.
The thing with cheating is that the risk-reward relationship does not always make a lot of sense. In the art world, forgers will fake relatively cheap prints that make a small profit for them. They face the same risks as with faking a Rembrandt, but the rewards are relatively small. In sports, athletes will use steroids even though they are already at the top of their game. How much of a boost did Ryan Braun get from cheating versus what it cost him?
Some sports seem to have a culture of cheating, while others do not. Cycling and track and field are riddled with cheating. There are more great cheaters than great champions in those sports. Everyone cheats and that's just the way it is. Golf on the other hand, has little cheating and actually relies on a rather austere honor code. Players have lost tournaments because they volunteered their own rule violations.
The thing that fascinates me is the cheating in cycling. No sport has the level of exotic cheating that we see here. It's not just the Tour either. They cheat down in the minor leagues too.
A professional cyclist has been banned for six years after it was discovered she was racing with a hidden electric motor. Femke Van den Driessche was caught at the UCI Cyclo­cross World Championships in January, during an inspection of her pit area. A magnetic resonance scan, which Road.ccreports was conducted with a tablet, allowed officials to spot a battery and Vivax motor in the seat tube. Van den Driessche could have activated it using a Bluetooth switch concealed under her handlebar tape. She denied the allegations at the time, claiming the bike was given to her by mistake.
That's complete nonsense, of course. Here's a pic of how the motor was hidden in the bike.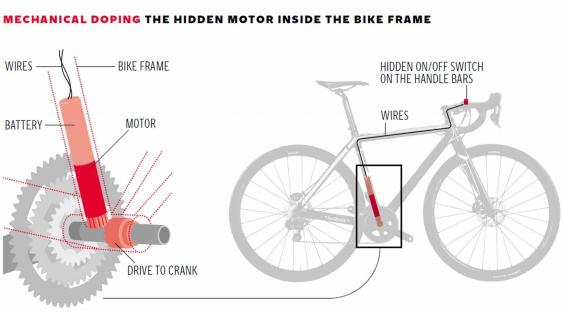 The technology involved here is not something you do in your garage with some simple hand tools. The down tube is 31.6 mm in diameter so slipping a motor and battery into it required some smart guys with access to high quality machine tools. There is a company that makes this device, but it would not fit a racing bike. That and it costs $3000 for the cheap model. This level of sophistication is closer to $10,000.
The puzzle here is why would they go to these lengths? Cycling is not sport where the pros make big money. Even at the top level, the typical pro is simply living on an allowance of sorts. Their room and board is covered and they get to keep prize money, which is not a lot. They make more money selling their spare bikes and parts than they make off the tour.
At the cyclocross level, it's a hobby, even though it is called professional. The sponsors cover the travel costs, room and board. They supply the bikes. This woman could expect to take home a few bikes after the season and sell them for enough to buy a used Toyota. Even if she was the greatest cyclocross rider in history, she was never going to make big money. Maybe she could hook on with a manufacturer one day in the marketing department.
Despite this reality, she and her team went to great lengths to find a tiny advantage. Realistically, how much of an edge could this device give her? The size limitation means the motor produced little power. The weight of the thing added about 10 kg to the frame, which makes a huge difference at this level of racing. Maybe the cheating helped this woman a tiny bit, but was it worth the lifetime ban and humiliation?
It's another example of how any system that relies on humans acting rationally or purely in their self-interest is doomed to failure. Some people like cheating. Some people get off on the thrill of breaking rules. Every society has free loaders. More important, people are not always very good at discerning their best interest. Walk around my neighborhood on a summer day and you see that fact in living color.
There's also the fact that culture is very hard to change. Cycling has been plagued with cheating for decades. Draconian punishments for drug use have only made the riders more clever at taking drugs. Track has a similar problem. There's something about the people in the sport that leads to the rampant rule breaking. Barring imposition of a 24×7 surveillance of everyone involved, these sports will be riddled with cheating.
That's the lesson here. Culture is not a collection of rules drawn up in a committee hearing. The rules of a society are the result of the culture, not the other way around. If you want an orderly society or an honest sport, populate it with orderly, high trust people. The results will follow. Similarly, introduce a bunch low-trust people and order will break down quickly. In the case of cycling, its biggest problem is it is full of cyclists.