When I was a kid, the police I knew looked something like this picture. I think this is a sheriff's department photo from the Midwest.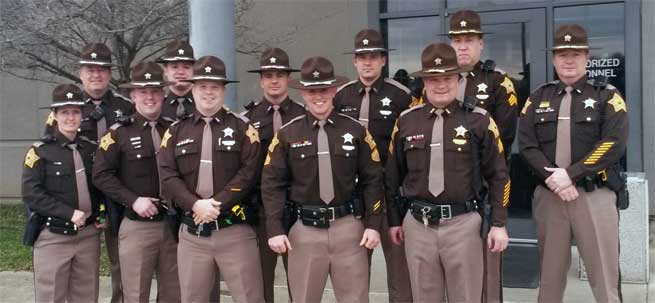 The cops back then were local guys who often had done a stretch in the military and then got a job as a local cop. Maybe they had ambitions to be a state trooper. Most were fine working as a county or town cop because they got to stick close to home and the job was not all that difficult. City cops had it tougher because they had real crime, but city cops came from the city so they knew the score before they signed onto the force. For many, the action was the attraction.
It was not an idyllic age. There was plenty of real crime and plenty of real criminals for the cops to apprehend. Take a look at homicide rates over the last century and you can see that we live is a relatively safe time. Crime has ticked up a bit recently, but nothing like we saw in the 70's, 80's and 90's.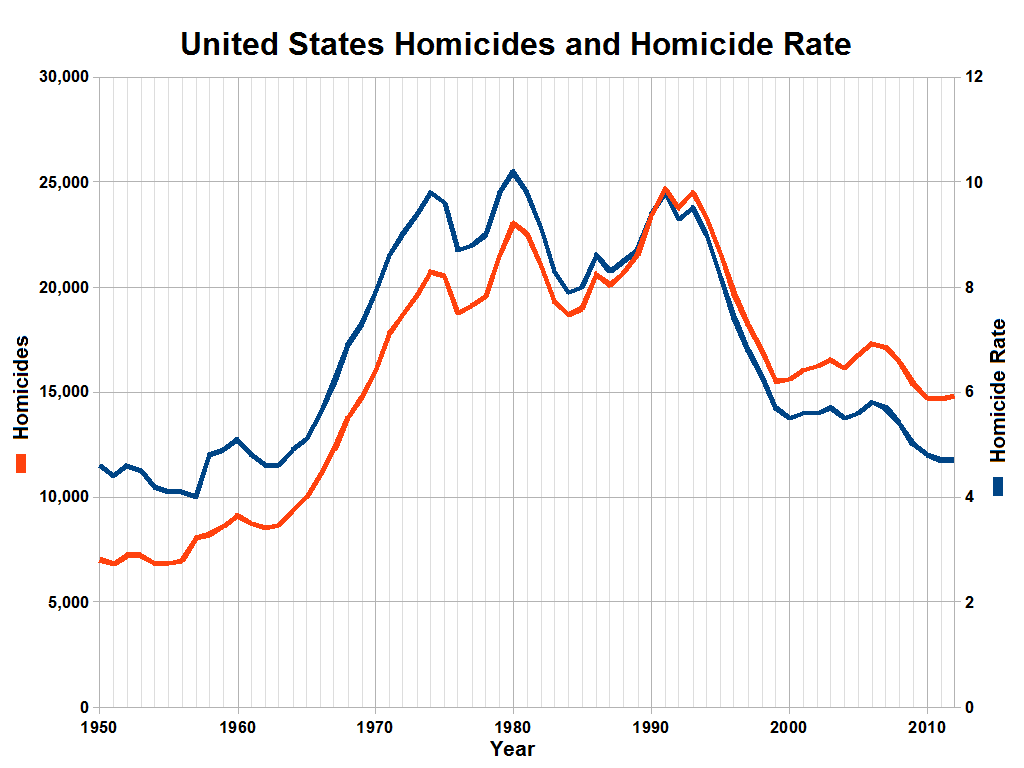 back then, the cops had radios, revolvers and fast cars for traffic duty. When I was a kid, radar was becoming common for traffic duty and it created a lot of friction between citizens and cops. Suddenly, the cops felt like highwaymen to a lot of people. CB radio probably got popular in the 70's because it was a way for motorists to warn one another about radar traps. I don't know that for certain, but someone once told me that and it jives with my memories as a kid in the 70's.
The point of this trip down memory lane is to point out that it was not so long ago when cops were just guys in the neighborhood. The only people who saw them as an adversary were up to no good. That's not the case today. This is what the cops look like in the typical American town.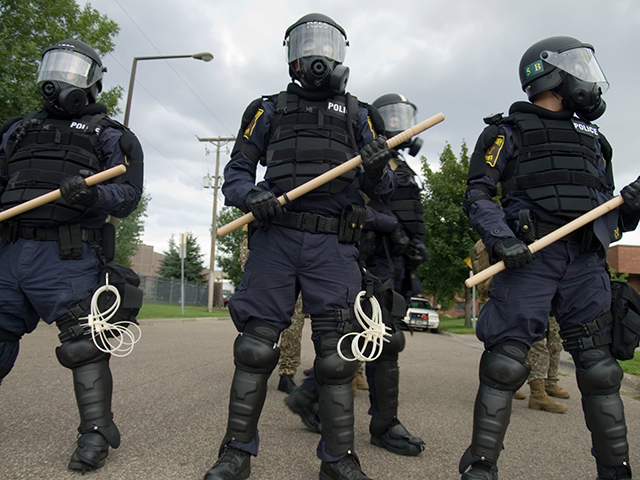 Every time Donald Trump has a rally, we see employees of the DNC and George Soros out attacking people and we also see cops in battle gear. They look like extras from a Star Wars movie, kitted out in black and Darth Vader helmets. The point of the outfit is to be intimidating and look dangerous. These are not citizens hired to enforce the law. These are agents of the state ready to crack heads.
This is a scene from the Trump San Diego rally a few weeks ago: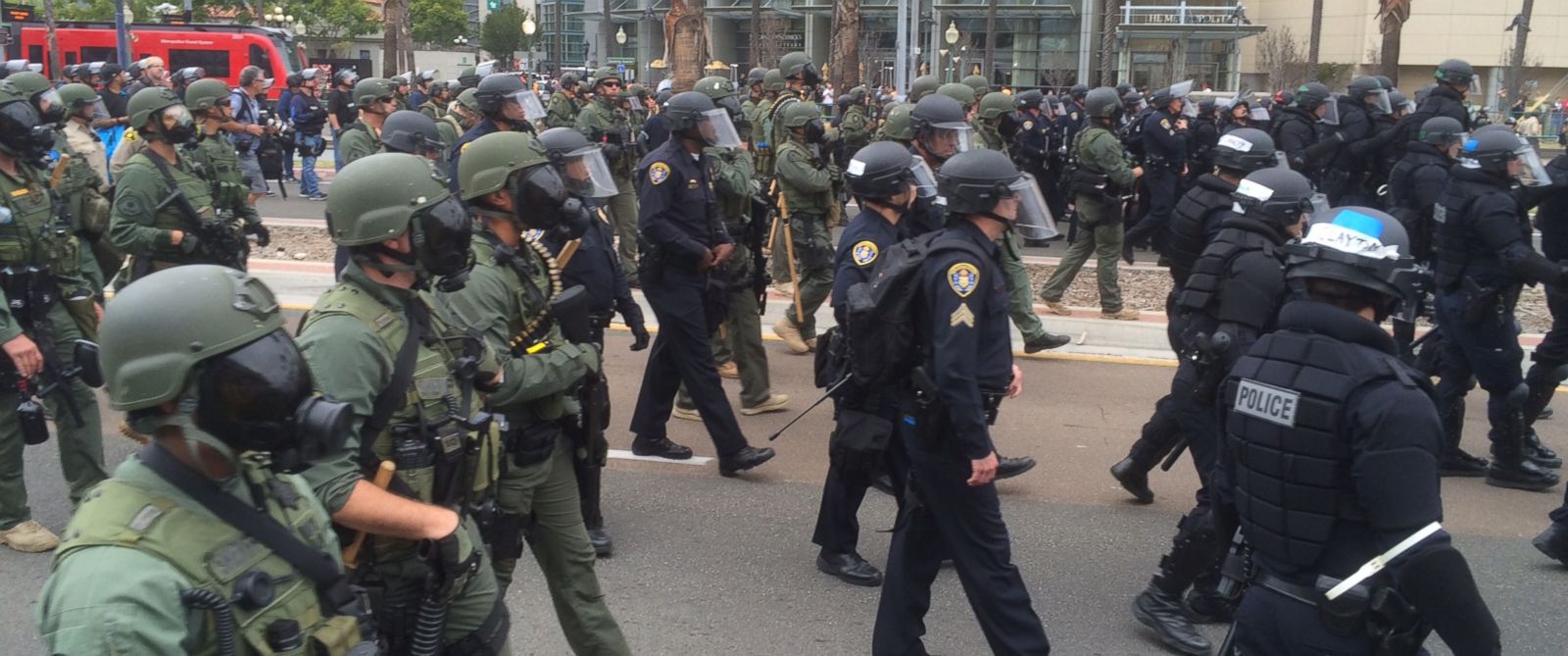 Now, you can say that riot control is dangerous stuff so the cops need to be dressed like storm troopers. The fact that we managed to control mobs for generations without having militarized cops is the obvious counter argument. We could also arrest the people financing these riots, which would pull the plug on all of this without having a massive display of force. But, where's the fun in that? No, the state wants the display. That's the point.
It's tempting to call what we are seeing an "emerging police state" and there is an argument in support of that claim. It used to be the politicians feared the people. They could be voted out of office and if that did not work, they could dragged from their office and hanged from the nearest light pole. They have no fear of that today. Those guys with the gas masks, body armor and full-auto rifles stand between you and the rulers. That's right gun grabbers, the cops now have mil-spec automatic weapons.
The West is not East Asia so "police state" is the wrong way to put it. The security forces in America will not be opening fire on peaceful crowds. They will not be driving armored vehicles through protest camps like we saw in China. Instead, it will be beanbags, rubber bullets and other non-lethal crowd control tools. It will also be endless surveillance from the state and corporate partners.
If you read this interesting story on the geezers who pulled the Hatton Garden Heist, the thing that should jump out at you is the causal celebration of the custodial state. The robbers were, in part, caught by the use of CCTV. Like most cities now, London is under 24×7 video surveillance by the authorities. On my way to the office, a two mile drive, I pass 12 security cameras and two speed cameras. They are watching us all the time now.
It's why the people in charge increasingly talk to us like we are pets, barely able to understand them. They see us as zoo animals. It's also why they are increasingly cavalier about bucking the will of the people. Paul Ryan laughs at so-called conservatives as he helps Obama push through his agenda in the remaining months of his rule. Angela Merkel is indifferent to public sentiment because, well, what are they going to do about it? How many divisions do they have?
At some point, maybe sooner than we realize, the pols in Washington will decide they have had enough with the voters. It's simply too much of a hassle. Some excuse will be trotted out so they can pretend to one another that it is necessary or temporary, but voting will come to an end. The people will protest, but the state will have men in body armor pouring out of APC's holding MP-5's. In the name of public safety, the protests will be broken up and the people put back in their enclosures.
Welcome to the custodial state.