Tyler Cowen is a deadbeat who lives off the paycheck of others. That's not his official title, of course. He calls himself an economist and he "works" at George Mason University as a professor, but he seems to spend most of his time travel writing and doing restaurant reviews for his blog. It's a good life. He is paid $225,201.00 per year to not teach any classes, based on his web page. Instead he writes books no one reads and maintains a busy travel schedule at taxpayer expense. He posts on his blog every day, too.
And he hates you. That's the only way to read his latest post.
Given what's happening in the country, with regards to the populist uprisings, immigration, identity politics and anti-white racism, his post could be read as a way to rub salt in the many open wounds. It's a cry for attention. Another way to read it is to signal to the rest of us, that like the royals of that bygone era, he and his class see themselves as above it all. They live in the cloud and the disruptions caused by the Cloud People are of no consequences to them.  This is his "let them eat cake" statement.
Cowen is an example of what has happened to America over the last three decades. His world can be described as a low work, high reward life. He lives in Fairfax County, one of the richest counties on earth. He putters around at his hobbies, never feeling the least bit of concern about his job. Government never has a recession and never fires anyone. He is not living like a rock star, but his earnings put him firmly in the top-10%. It's a great life and everyone should experience it, but you can't. You have to pay for it instead.
By paying for it, it is not the cash that it takes to finance the multi-trillion dollar skimming operation that is national government. The reality is, as Tyler Cowen would be happy to explain, the rich pay most of the taxes. The bottom half of earners pay little in taxes to the Federal government. The middle-class is not taxed too heavily. No, It is not the checks you write to Washington. Paying for it means the endless war on you, your past and the culture you consider to be yours and your ancestors. Your tax is their hatred of you.
It is one of the unanticipated consequences of the managerial state. People like Cowen should be grateful for a lifestyle few can experience. Logically, he should look around and want to conserve as much of America and American culture as possible, as it is what has allowed him to live. Instead, he bitterly hates the world that made it possible for him to exist. Like a spoiled teenager, he is perpetually lashing out at the people doing what is necessary to make it possible for this coddled class to live a life of leisure.
This pampered class hates you and wants you replaced. That's the point of the Cowen post. He certainly knows that the reason NoVa "works" as a multi-culti paradise is that trillions are hoovered off from the rest of the nation and used to make his the adult daycare center run smoothly. He knows it, but that's not important to him. What matters is that he lets you and his colleagues know just how much he hates the Dirt People outside the walls of his world of make believe. He's a bigot. He hates Dirt People.
All over America, the people in charge are sending this around, laughing about how they are erasing you from the history books. They think it is funny.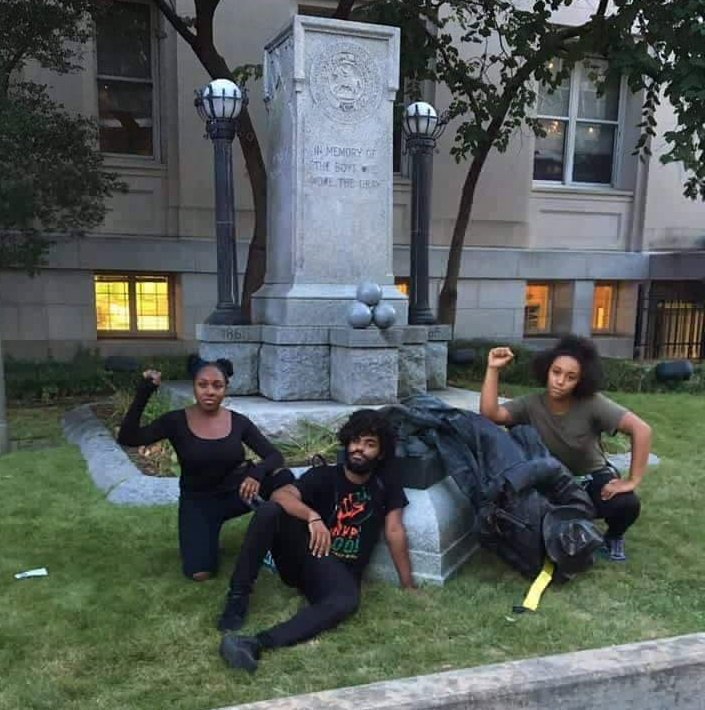 Of course, if the roles were reversed and three honkies were posing in front of the toppled over statue of Martin Luther King or a vandalized holocaust memorial, the New York Times would be issuing a another fatwa against the honky. Nothing will happen to these three or any of the people who toppled it over. That's because what's driving this is not the agency of black people. They are simply reacting to the prodding of bigots like Tyler Cowen and the rest of the pampered class. It's monkey hear, monkey do, as it were.
Ironically, Tyler Cowen lives on a street named after the Spanish philosopher, George Santayana. He is best known for the quip, "Those who cannot remember the past are condemned to repeat it." The past is full of guys like Cowen. They were a feature of the French Revolution. They were a feature of the Cultural Revolution. They were there cheering the Bolsheviks when they seized power. It was all good fun until the knock was at their door. The knock comes because men full of hate for their side have no friends.
Tyler Cowen and the men of his class hate you. The reason for that is he knows that if we ever get anything close to the libertarian world he claims to support, he's standing on a street corner selling pencils. He knows he and his kind are just overgrown toddlers living in perpetual adolescence. Without the Dirt People to keep him safe and supporting a system that makes his world possible, he's nothing and he resents you for it. He resents that you can live without him, but he cannot live without you.
It is easy to look at that picture and feel disgust toward the blacks posing on the toppled over statue. Maybe that is our future. Maybe the world of tomorrow is blacks camped out in the ruins of the American Empire. The great ethnic and racial strife that will define the coming battle for the West may not end well. The reason the Tyler Cowen's root for the other side is that no matter how it turns out, the future will not include under employed economists who spend their days writing Yelp reviews about kebab restaurants.