An important project of the Left for a long time now has been to discredit the idea that intelligence is genetic and therefore heritable. In order to maintain the blank slate, they have to argue against genetics and evolution. Anytime someone can produce a study showing that environment alters life outcomes, Progressives rush to the internet to trumpet the study as if it was holy writ. That has been the response to this Norwegian study on intelligence, that claims to observe a reverse in the Flynn Effect.
There is confusion in the commentary, because there is confusion about the meaning of the Flynn Effect. The Left likes to claim that the Flynn Effect shows that better schools and ideological indoctrination make people smarter. That's false. What the Flynn Effect observes is that populations get smarter as environmental conditions improve. People also get taller when environmental conditions improve. In other words, an improving physical environment means more people able to reach their genetic potential.
On the other hand, the other side often leaps to the conclusion that things like immigration and fertility rates exclusively drive population IQ. This is true in the aggregate. Import large numbers of Africans into Iceland and the average intelligence of Iceland will decline. That does not mean the native Icelander got dumber, although the decision to import Africans could be proof of that claim. The Flynn Effect observes that children will be smarter than their parents, when environmental conditions improve. A better life means better kids.
The reason this Norwegian study is causing blank slate believers to hyperventilate is it claims to show a decline in IQ within families. Specifically, the children are dumber than their parents and younger brothers are dumber than older brothers. Children born in the 1960's had an average IQ a little over 99, while children born in the 1970's had an average IQ of 102.Since then, IQ's have declined to the 1960's level. Because this was measured within families, the researchers rule out genetics, dysgenics and immigration as causes.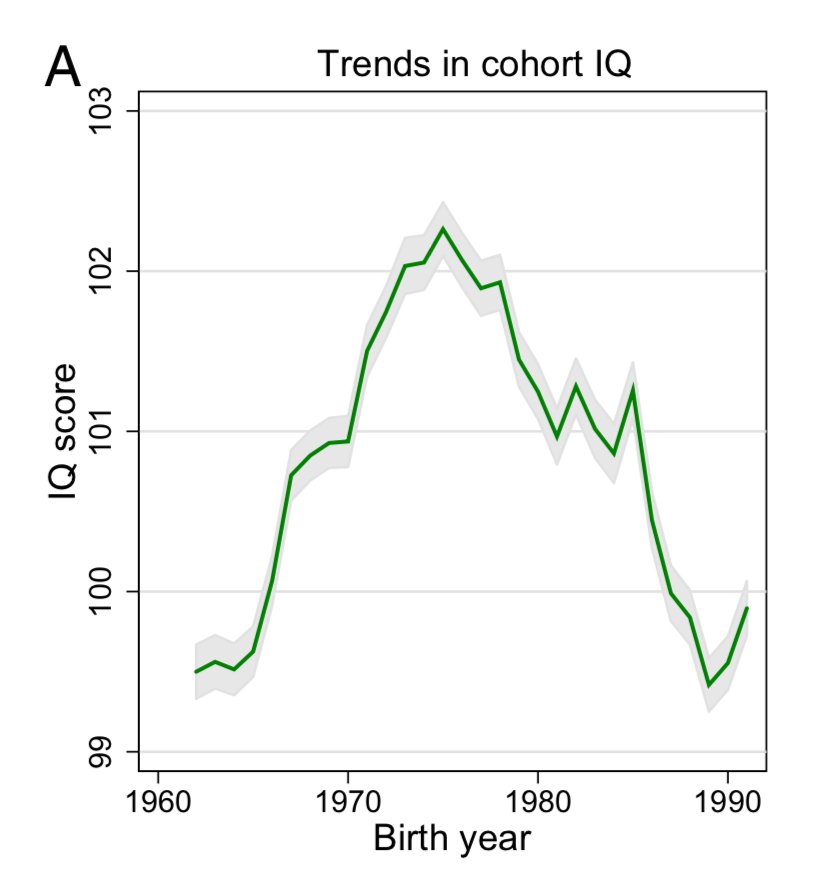 Now, the first thing to note is that blank slate people employ the same tactic we used to see with the intelligent design people. The ID'ers would hunt around for anything they could hold up discrediting Darwin or natural selection, no matter how trivial or tangential, so they could claim evolution was not science. This was supposed to "prove" that intelligent design was therefore a valid theory. Blank slate people play the same game by trying to poke holes in genetics, believing it will prove the blank slate to be valid.
There's a word for this sort of argument. It is called sophistry. Just because natural selection cannot solve every puzzle in the fossil record, that does not mean magic is the default explanation for the fossil record. Similarly, just because IQ's appear to be declining within Norwegian families does not mean IQ is not heritable. It has always been known that intelligence varies within families. The question posed by this study is whether this is caused by subtle changes in environment or some unknown randomness in the genome.
Further, it has been observed for a long time that average intelligence within Western societies have been declining since the 1970's. Overall IQ appears to have peaked in the 1970's and been in decline ever since. Immigration is one cause. Another is the habit of smart successful people having fewer children. The opening scene to Idiocracy is not entirely wrong, even though fertility among the poor has declined. From the late Middle Ages into the early 20th century, smart people had big families, because they could.
Again, this Norwegian study is not reporting this sort of result. Instead, they are picking up a decline within families. The one potential flaw is that it measures only male intelligence, which means sons are dumber than fathers and younger brothers are dumber than older brothers. The Flynn Effect observes increases in IQ within families due to improved environmental conditions. Therefore, a decline would logically be linked to some unknown environmental changes. In other words, maybe television really does rot the brain.
Of course, the changes are quite small, so it could simply be the Breeder's Equation at work. The uptick in the sample population used in this study could have been driven by a bit of environmental luck. The decline is simply a reversion to the mean. The recent uptick you see in the above graph could also indicate a natural variance between a maximum and minimum for this group. The observable difference between a 99 and 102 IQ is zero outside of a testing environment, so it has no impact on social outcomes and reproduction.
All that said, there are two things we know are true about overall human intelligence. One is the population of this earth with low-IQ's are breeding like bunnies. Simple math says mankind is getting dumber on average. The other thing we know is that the load the smart fraction can carry is finite. Pile in enough stupid people in a population and eventually they overwhelm the efforts of the smart people. The puzzle is in figuring out the tipping point and the goal is to make sure your country avoids reaching that tipping point.